DATE 12.10.2021 online – HOUR: 14:30 – 17:00 CEST 
Il CUEIM insieme a Sinergie organizza il webinar "How to connect research and sustainable business: The role of knowledge networks in enhancing circular economy" nell'ambito della Circular Week 2021 (11-17 ottobre). La campagna internazionale organizzata da INNOWO mira promuovere l'idea di un'economia circolare, sostenere la creazione di modelli di business sostenibili e rafforzare la cooperazione tra le parti interessate.
L'incontro online del 12 ottobre intende favorire una riflessione concreta su come fare impresa circolare e sostenibile oggi, attingendo dalla rete di conoscenze del CUEIM. In particolare, dai lavori di ricerca sviluppati dalle componenti accademiche, delle testimonianze positive dei partner progettuali e delle iniziative in corso sui temi del management e dell'economia verde e circolare.
Sarà un'occasione per presentare i vantaggi economici e di competitività per le imprese e i benefici per i territori derivanti dalla transizione a nuovi modelli di business, attraverso la condivisione di buone pratiche sostenibili e percorsi innovativi, come possibili approcci per affrontare il presente e progettare il futuro di imprese e territori, realizzando il cambiamento.
Il webinar è aperto alla partecipazione di tutti gli interessati previa iscrizione fino ad esaurimento dei posti disponibili al link:  https://form.jotform.com/212793648472062
L'Agenda è visibile nel box di seguito
AGENDA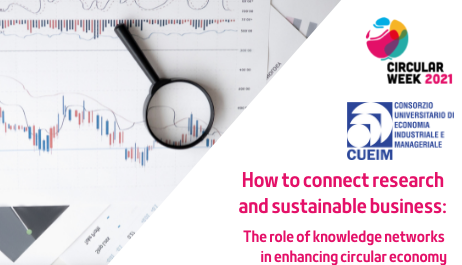 Introducing the meeting: presentation of CUEIM's Ecosystem, G. Zarlenga (CUEIM)
"Business as a force for good": Yves Rocher Italia SB Case study, D. D. Cazzaniga (InVentoLab) – 14:40 – 14:50 
Sinergie IJM: The role of a Scientific Journal in connecting research and real world, M. Ugolini  (University of Verona) – 14:50 – 15:00 
Determinants of circular economy practices in SMEs and benefits of their adoption, F. Corsini, (Sant'Anna school of Advances studies – Pisa) – 15:00 – 15:10 
The analytical assessment of the relationship between circular economy principles and smart  sustainable cities, M. Fedele, A. Bashirpour Bonab (University of Cassino) – 15:10 – 15:20
Tourism and sustainability: opportunities and challenges for hotel enterprises,  F. Buffa (University of Trento) – 15:20 – 15:30 
Social Open Innovation: Using stakeholder engagement to link Open Innovation with Social Needs, G. Basile (Universitas Mercatorum) – 15:30 – 15:40 
A process of evolution: AI as an enabler for breaking down institutional silos of non-inter-disciplinarity, M. Hadjiathanasiou (Gnosis – Mediterranean Institute for Management Science) – 15:40 – 15:50 
The training role in the social open ecosystem building. Entrepreneurs and workers as means and ends of social behaviours, S. Bentrovato (Federterziario) – 15:50 – 16:00 
European and national institutions role in promoting a collaborative framework, to develop circular and social innovation experiences for a fair transition, A. Paglia (TES) – 16:00 – 16:10
B Corp e Benefit Corporation, a model of sustainability, L. Guarneri (Nativa B Corp) – 16:10 – 16:20  
CUEIM, A Knowledge and Collaborative Network: approaches, projects and academy, G. Zarlenga (CUEIM) – 16:20 –16:30          
Final Round Table with possibility of interaction with the audience/discussion about the comments they left  on shared docs. – 16:30 – 17-00