28-29 March 2019
Nicosia, Cyprus
CUEIM will participate, along with the Interreg MED Green Growth Community, in the joint Conference CIrClE2019, "Challenges for the Islands in the era of Circular Economy"and SMile2019 "6th Sustainable Mobility and Intelligent Transport conference", after the success of the last year with the organization of the Business Forum.
The Conference will be held on 28-29 March 2019, in Nicosia, Cyprus, under the auspices of DGENV and DGMOVE with the idea to boost circular economy in the islands, highlighting cross-border cooperation, enhancing bilateral & multilateral relations, sharing good practices, strengthening economic & business opportunities and promoting green and blue growth, sustainable mobility and intelligent transport systems, sustainable development and implementing circular economy practices in the islands.
An expo area demonstrating technology advancements on mobility and electromobility as well as a research hub will be open to visit during the 2-day conference. The research hub will be hosting projects related to circular economy & mobility topics.
The Green Growth Community will have the chance to present the results of its projects taking part both in the main Conference and the parallel expo area.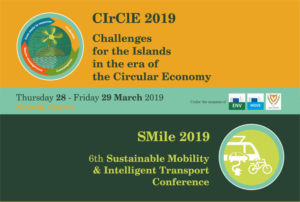 ---
For more information please visit the website of the Conference .