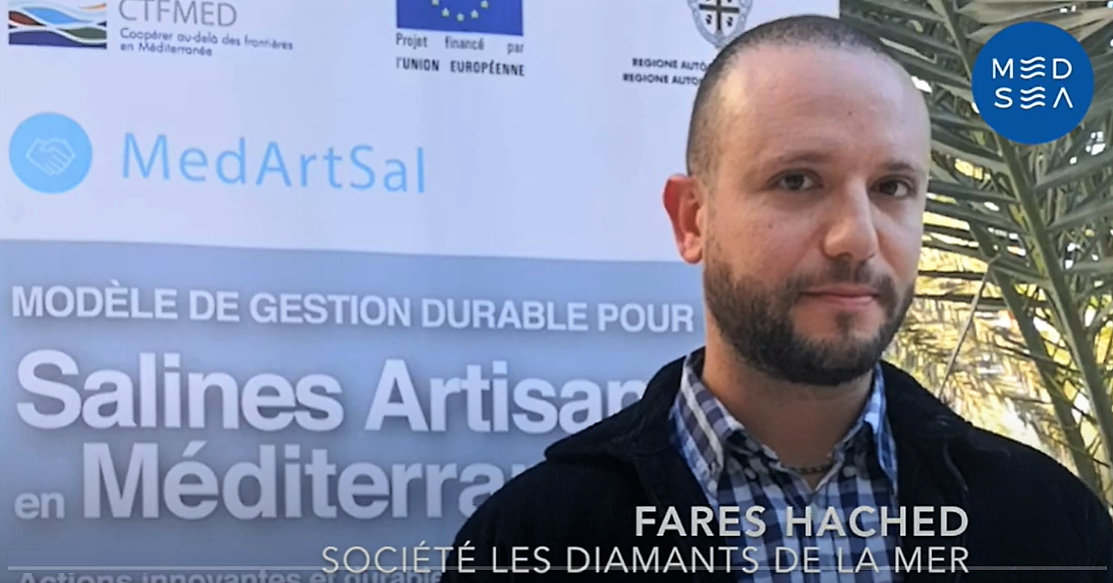 CTICI – Fares Hached – Société le Diamant de la Mer – SODIMER
Last March, during the ENI CBC MED MedArtSal project thematic clustering workshops on "Food salt and other food products from the salinas for the gastronomy" and on "Cosmetic products, treatments and therapies from the salinas" organised by the project partner Tunisian – Italian Chamber of Commerce and Industry in Tunisia, MedArtSal project partners had the opportunity to meet several local and international stakeholders belonging to the salt production sector and related ones, as well as some representative of the pilot action salinas granted through the project. Among them, Fares Hached represented the Société le Diamant de la Mer – SODIMER, the managing company of the salinas of Kerkennah Islands, one of the MedArtSal pilot actions in Tunisia under the project "DESK". The project partner MEDSEA scheduled an interesting interview with him, then   in order to learn more about the SODIMER experience within the MedArtSal project. The full video interview is available here.
SODIMER represents a key actor in the implementation of the MedArtSal pilot action activities in the Kerkennah Islands salinas in Tunisia. The company, in partnership with the Association of Continuity of Generations – ACG and the Association pour la Conservation de la Biodiversité dans le Golfe de Gabès – ASCOB Syrtis, received in 2021 one of the MedArtSal subgrants to finance the project "Développement écologique des salines de Kerkennah  – DESK", aiming at the development of a model of sustainable management of the salinas through the implementation of new sustainable activities that harness natural resources to improve productivity, while respecting the local community and the environment and ensuring the use of resources in the future (find here more information about the project).
The interview
MedArtSal:
In the framework of EU legislation, Blue Growth represents "a long-term strategy in support of sustainable growth of the marine and maritime sectors applied by the European Commission (DG MARE) to harness the untapped potential of Europe's oceans, seas and coasts as drivers for the European green economy with a great potential for innovation, improved competitiveness and quality jobs aiming at achieving the goals of the Europe 2020 strategy for smart, sustainable and inclusive growth." How SODIMER is changing own business approach to environment and climate change? And how MedArtSal project contributed or supported in this changing?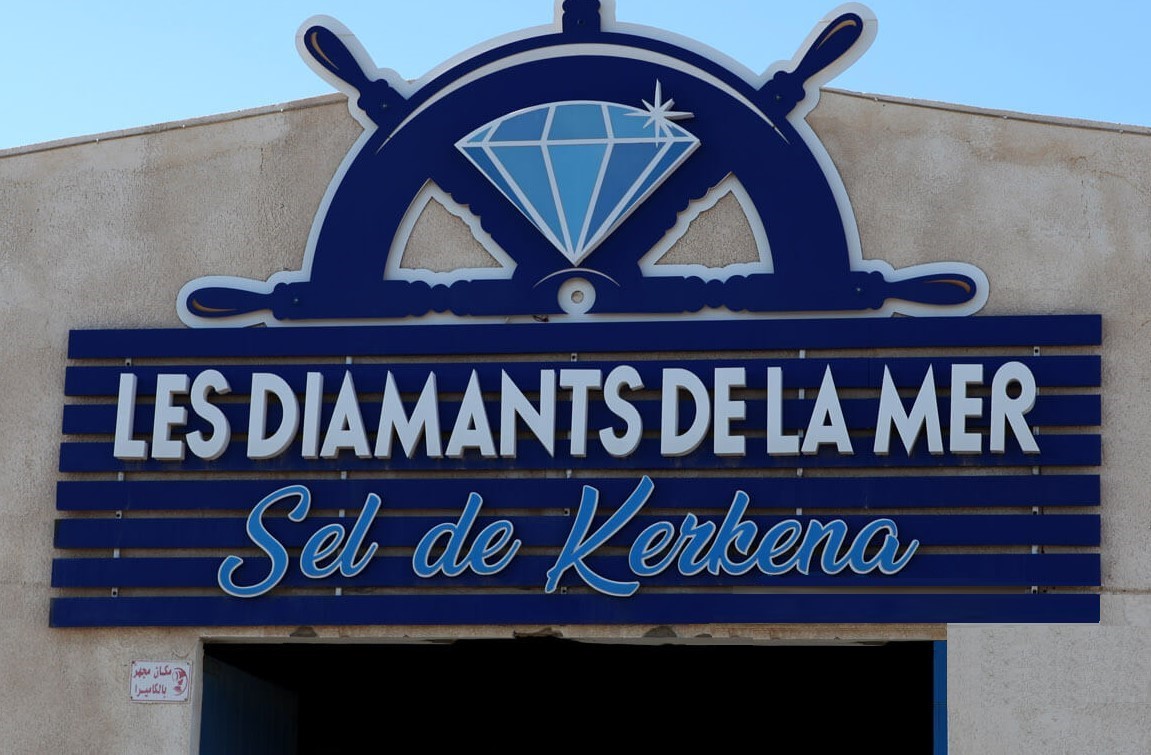 Société le Diamant de la Mer – SODIMER  main entrance, Kerkennah salinas
FH – SODIMER:
First, thank you for welcoming me here and to the MedArtSal project. The business approach of SODIMER has been involving in a very good direction and that has been done by implementing new business practices, that are more sustainable. For example, in this area we have been implementing HSE policies, so Health, Safety and Environment policies: for example, we have been purchasing protective and personal clothing for our employees to protect them from the hazards of salt production processes. Also, in this area we have been recommending to realize continuous testing of the quality of the water within the basin. Another activity we realised to increase the sustainability of our business practices is the launch of a new strategy to reduce the waste, by reducing the usage of waste in the sediments, but also by implementing a dust suppression system and the needed disposal of hazardous materials.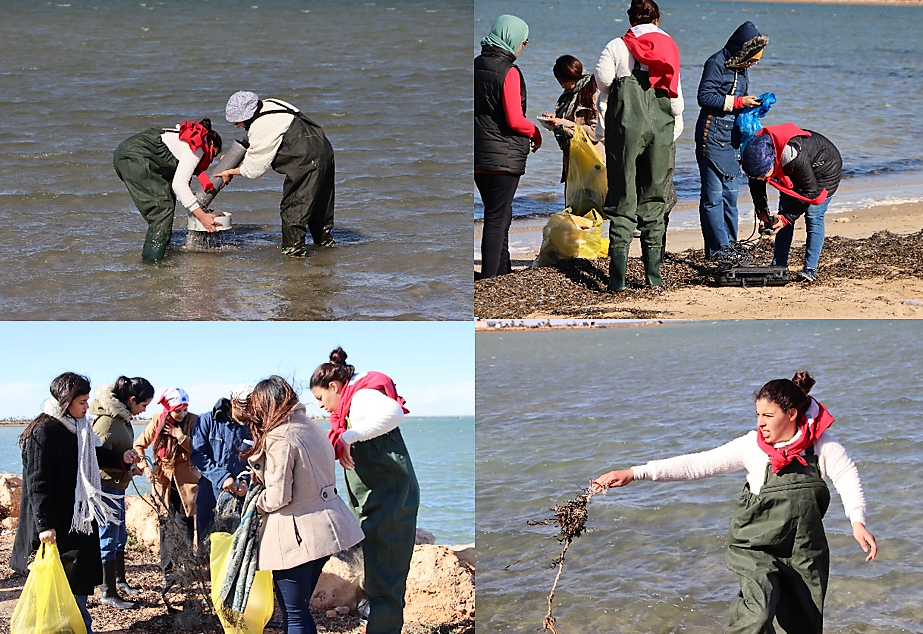 Students at the Youth Event organized in the framework of the MedArtSal pilot action DESK at Kerkennah salinas, January 2023
Within the DESK project, we have been collaborating with ACG Generations – Association de continuité des générations ACG, that is helping us in implementing the activity. We were able to implement touristic circuits. Namely, we have developed two different circuits. We traced one circuit to allow people to go and explore the salina and the basin, and at the same time look at the production. Then, there is another circuit, where people can experience the leisure activity of bird watching.

Cycling circuit and young riders at Kerkennah salinas
Within that project we also have built cabin woods, in which we show our own products that we would also like to sell to our visitors in the future, and at the same time pictures of birds and of all the living species in the salinas.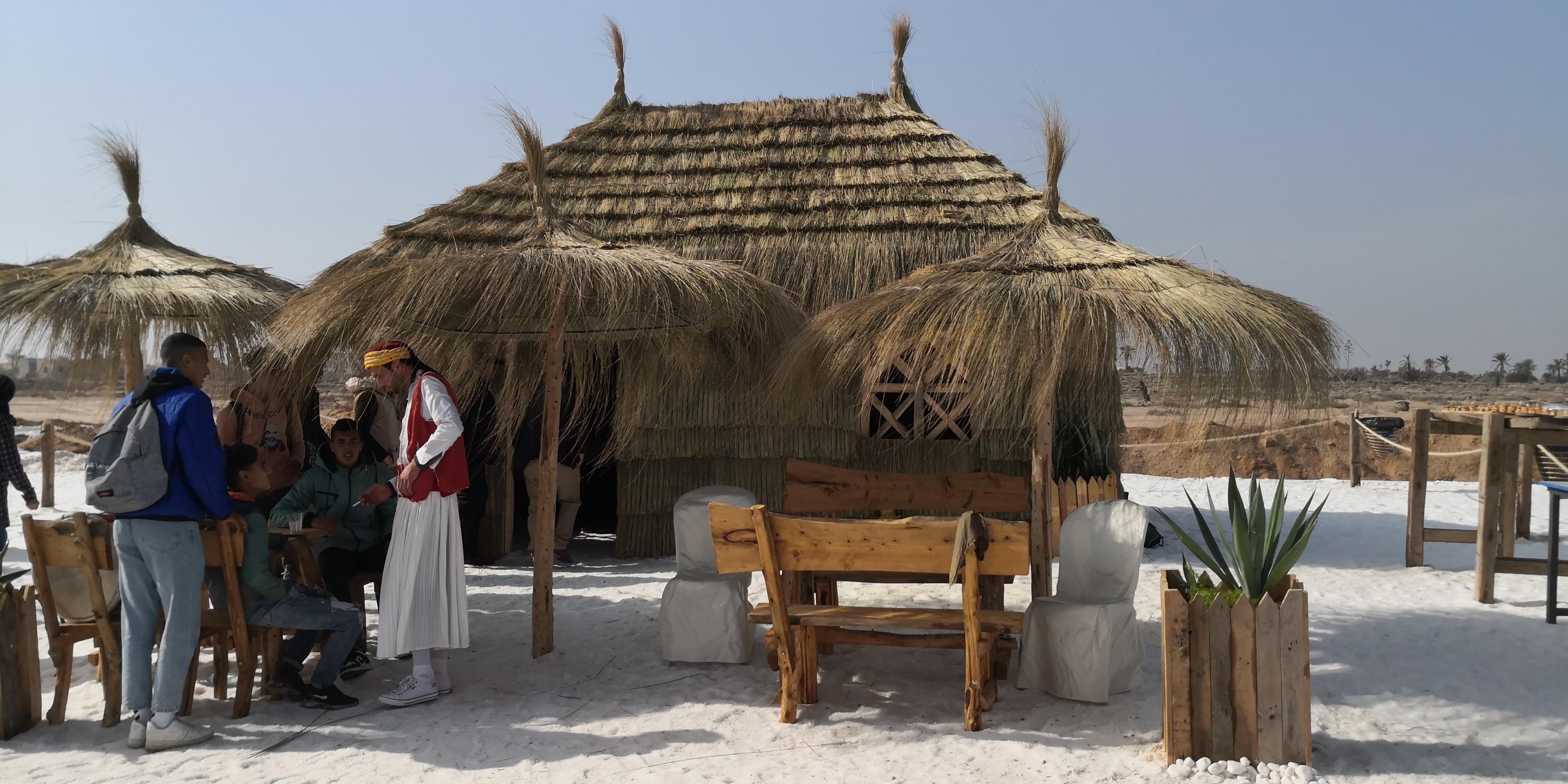 Cabin woods at Kerkennah salinas
Then, in collaboration with ASCOB Sirtys, we also conducted a feasibility study about the possibility of fish farming within the salinas basins closer to the sea. Our objective is to promote this kind of activity, so that in the future we can attract more people to visit our places and eat at our nearby restaurants. I think that the MedArtSal project has enabled us to promote the environmental and cultural heritage of our region and, by doing so, it contributed to the SODIMER goals of preservation and growth of the marine and maritime resources in the Mediterranean, which I think aligns with the EU Blue Growth Strategy 2020 for a smart, sustainable and inclusive growth.
MedArtSal:
Your experience successfully exploits the potential and the versatility of saltpans in Tunisia. Environment, tourism and cooperation with local organisations and associations. What would you suggest to exploit the added value of this kind of diversification activities? What do you need to turn them from pilot to corporate activities?
FH – SODIMER: In order to explore the added value of diversification of our products, we actually have to turn them from pilot phase to a concrete and corporate one. In order to do so, we have to look at several key factors.
Firstly, we have to continue on the diversification of our products, beyond normal artisanal salt. To this aim, we have been looking at different usages and applications of salt. I would especially mention the use of salt in cosmetics, for examples in shampoos or exfoliating soap.

Kerkennah salinas products
We have already done a pilot action about this and in wellness sector, so we would like to sell our products in the wellness sector. Here, we started with magnesium, chloride oil and the bath salts. Adding to that, we also have the paramedic sector. Here, we are now planning the way to conceive a new product, a nozzle spray made of seawater. In order to be able to implement these products, we need to invest more in research and development, so that we can also identify new markets and tackle on new clients.

Kerkennah salinas products
Secondly, our dream is to establish a touristic compound within the premises of the salinas. Our vision to make this dream come true is to build eco dunes around the salinas, 100% made of recyclable material and with zero waste within their system. So that people/tourists can come and spend a night at our salinas, discover them and at the same time enjoy their time for example in our restaurants, eating local biological products, and experience some new dishes with salt. We are also looking at building special basins and lagoons where people can come and relax, maybe enjoying a massage, where also parents can bring their children and help them to learn how to swim for the first time.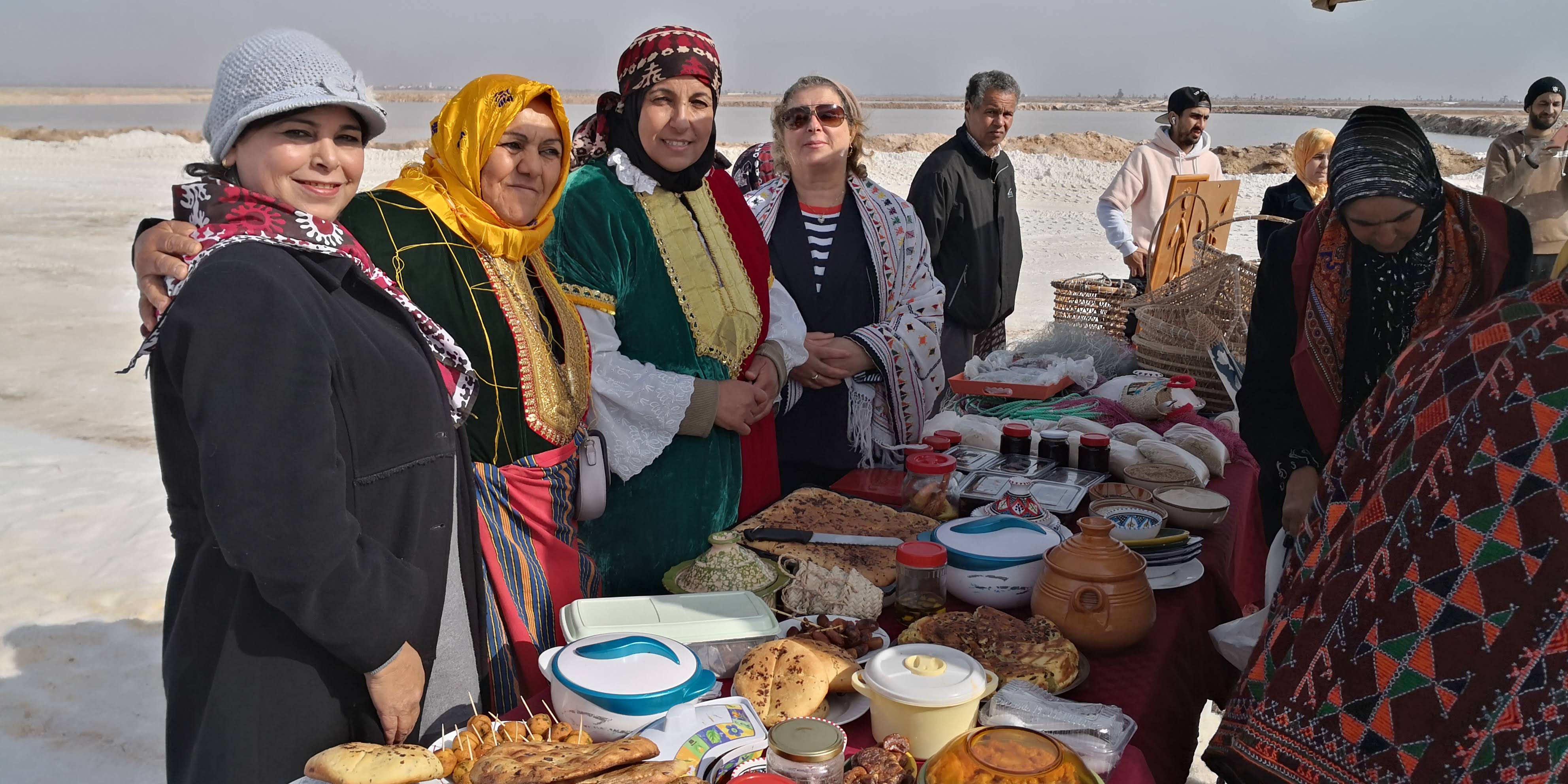 Locals at Kerkennah salinas food market during the MedArtSal workshop, March 2023
Obviously, for this we need to invest in infrastructures, but also in marketing, because we need to attract the tourists and urge them to come and visit us in the salinas. But it is also very important to maintain a good relationship within our environment, including associations, local communities, residents and all the social actors. So, to do so we need to do and maintain a strong and ongoing dialogue with these stakeholders, in order to make sure that our activities are actually aligned with their vision and their own priorities and needs.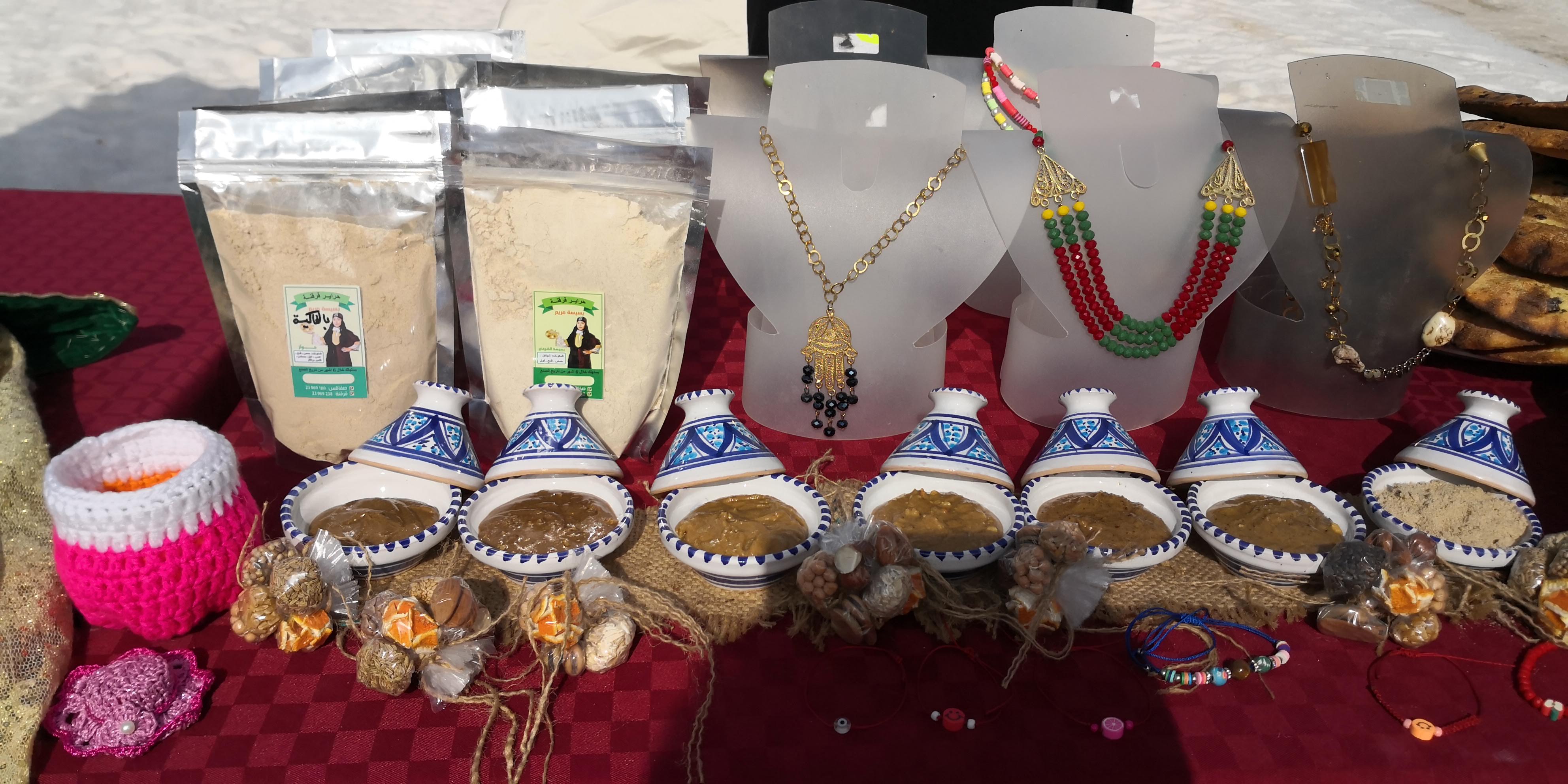 Kerkennah salinas products
MedArtSal:
In the framework of MedArtSal, your experience was born thanks to the cooperation with relevant stakeholders, among which AGC and ASCOB. How much important is the cooperation with such relevant stakeholders to develop and implement this kind of project? How would you define their contribution for the achievement of your common goals?
FH – SODIMER:
I would like to underline that nothing could have been achieved without the help of local and social communities, especially the local NGOs that help us.
I would like to mention ACG – Association of Continuity of Generations, which is headed by Mrs Sana Taktak Keskes. I really would like to thank her, especially for help and guidance. She was very helpful and gave us a lot of ideas. She also helped us with her team in order to be able to bring to life this project. She brought the experts, she had the right contacts and this has made our project easier to implement.
Mrs Sana Taktak Keskes – Association of Continuity of Generations – ACG
When it comes to Ascob Syrtis I want to thank Mrs Lobna Loudaya. She helped us to realise the feasibility study (mentioned before), since they had the right expertise and knowledge. I would also like to thank the MedArtSal partners for everything, as well as the local and governmental entities that have been very cooperative and helped us in organising the event where we first launched the touristic circuits.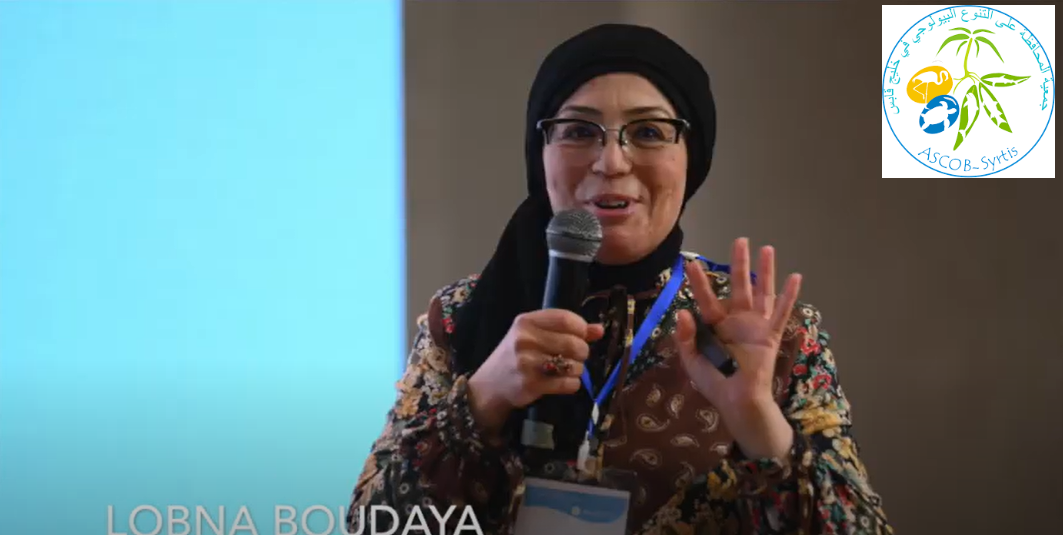 Mrs Lobna Boudaya – Association pour la Conservation de la Biodiversité dans le Golfe de Gabès – ASCOB Syrtis
Without the contribution of all these actors, especially the NGOs, none of our projects would be at this level. I think they played a very crucial role in realising the DESK project and I really hope to keep collaborating with them in the future, especially because they are the ones that can bring the local community to us. This is because with SODIMER, as a company, we could not naturally ask people to come in this easy manner, while as an association or NGO, they already have members and members have their families. They know how to attract tourists, how to promote the events and make people come to our salinas. In this sense, this collaboration has helped us to become opener and more welcoming towards tourists.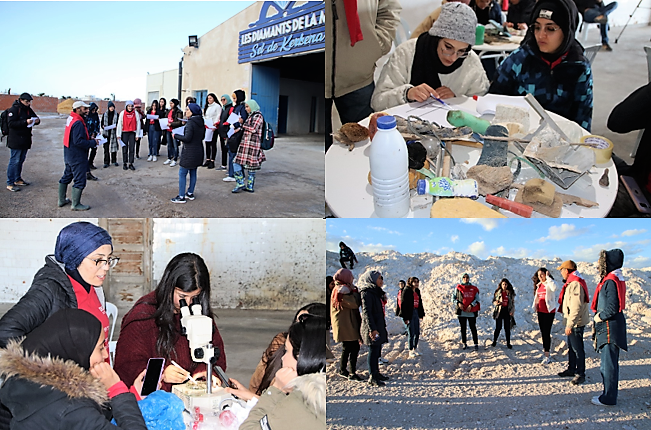 In the framework of the MedArtSal project, on January 19th, the Association for the Conservation of biodiversity in the Gulf of Gabès – ASCOB Syrtis and SODIMER hosted a group of young students in the salinas of Kerkennah. The event was organised with the aim to explain to them how the salinas work and their vital role, as special wetlands, for many species of flora and fauna. The students had the opportunity to explore the area and learn more about the specificity of that ecosystem as well as about the sources that can represent a risk for its biodiversity.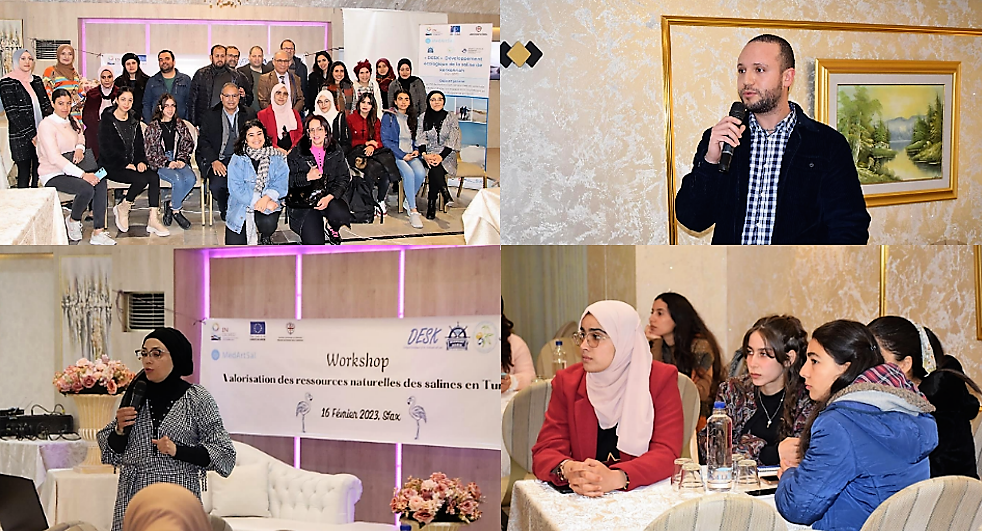 As part of the MedArtSal Project, on February 16th, the Association for the conservation of biodiversity in the Gulf of Gabès – ASCOB Syrtis in collaboration with the company SODIMER realised a workshop on the salinas potential in terms of living resources and valorisation, mainly involving young graduates and young researchers interested in the field. The workshop aimed at showing the importance of salinas in term of natural resources and biodiversity in order to make the young participants reflect, inspiring them about possible start-up ideas for the better development of these resources.
This experience has also a lot of other good consequences, like for example, in reducing our problems with the neighbours or making people speaking well about our company, not as before, and this because these people had the opportunity to come and visit our salinas, know that there is a touristic circuit, and we are an open company. Now people think that SODIMER is a company for the region and not only a private one, like another region's heritage.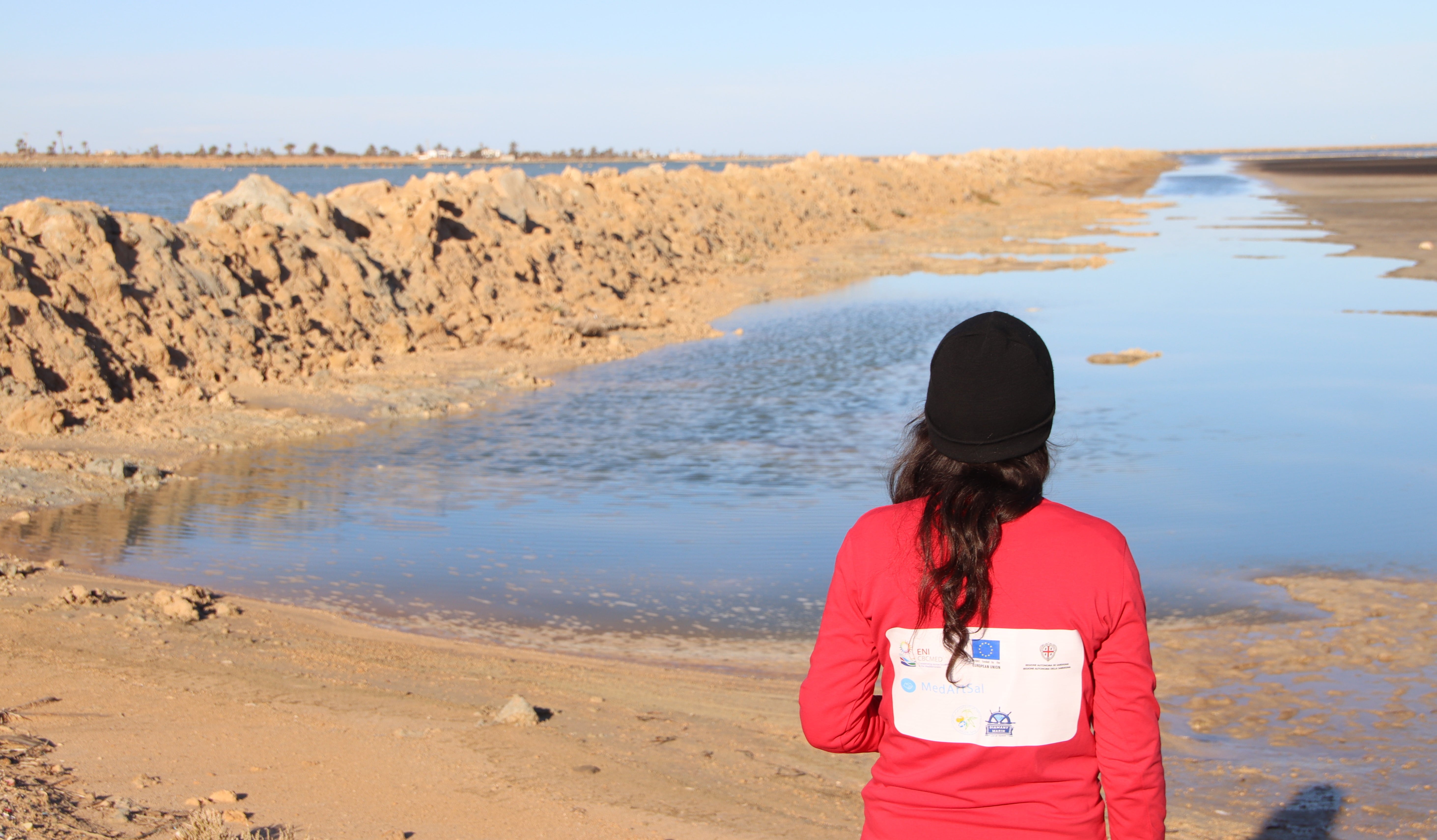 Student at Kerkennah salinas during the Youth Event – DESK pilot action, January 2023
MedArtSal is a project funded by ENI CBC MED Programme. More info about on our dedicated page and on the official website.